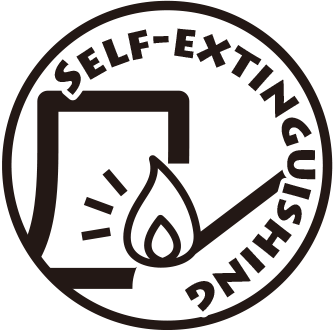 Flame Retardant Materials
KANECARON™ contains vinyl chloride, which has excellent flame retardancy, and the material itself is flame retardant. Therefore, the flame retardancy is likely to not deteriorate due to washing. Also, when the fire source is removed, the fabric will not burn, but to self-extinguish (Limiting Oxygen Index (LOI) value is 26 or higher, *this result is in-house test results which are not guaranteed values).

KANECARON™ is effective for applications that require consideration for safety, such as stuffed animals, home textiles, children's clothing, and so on.
* LOI value is a numerical value used as a measure of flame retardancy and is defined by "JIS K7201 Limit Oxygen Index". The LOI value is expressed as the volume percentage of the minimum amount of oxygen required to sustain the burning of a substance in a mixed gas of nitrogen and oxygen. In other words, the higher the LOI value, the harder it is to burn.