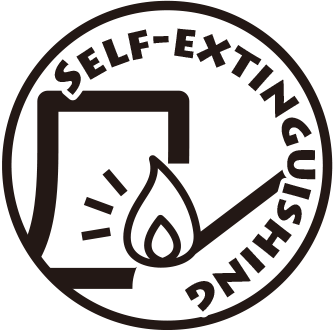 Material Fireproof Attributes
KANECARON® includes vinyl chloride that has exceptional fireproofing ability, allowing the material itself to be fireproof.
This also prevents the fireproofing ability from degrading with washing.
If the fire source is removed, the fire will not burn stronger and will distinguish by itself (Limiting Oxygen Index (LOI): over 26; this figure is from inhouse experiments and is not guaranteed in all cases).
This is particularly effective for applications that require safety, such as stuffed toys, home textiles, and children's clothing.
* The LOI is a numerical value used for measuring fireproof quality and is regulated by "JIS K7201 Limiting Oxygen Index". The LOI is expressed as the percentage of the minimum volume of oxygen required to sustain combustion of a material through a mixed gas of nitrogen and oxygen. In other words, the higher the LOI the more difficult it is to burn.